Here are four things I've never done in my entire life:
1. Never visited LA, or any part of California for that matter
2. Never have walked the red carpet
3. Never have been to a major movie premier (although the pre-screening of Delivery Man was rad)
4. Never met a celebrity, other than my mother who is an author
Guess which of these I'll be doing next month. ALL of them! I swear I'm not trying to brag (much) but I'm utterly excited/blessed/honored/humbled and about eleventy billion other adjectives.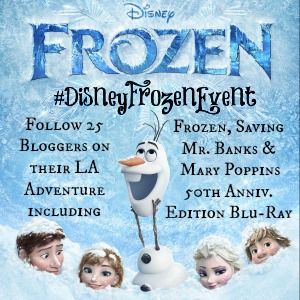 I could tell you that I'm a Disney fan because I have kids, but I'd be a Disney fan regardless. Isn't everyone? Their movies, both animated and live action, are timeless. They bring out the kid in everyone, no matter what age. Admit it – as soon as you see the silhouette of Sleeping Beauty's castle and hear the memorable "When you wish upon a star" instrumental at the start of your favorite Disney movie, it invokes a feeling of utter happiness.
That will be me next month. I may have to find a seriously large box of tissues for the overwhelming feeling of bliss with which I will be overcome. I may also need to find a red carpet-worthy dress, shoes and bling since I spend most of days in pajamas lately.
I'll be walking the red carpet with celebrities and fellow Disney fans, as well as 24 other fantastically talented bloggers, we'll attend the premiere of Disney's Frozen, we'll interview the movie's stars, see a screening of Disney's Saving Mr. Banks and get a behind the scenes look at the classic Mary Poppins celebrating it's 50th anniversary! I'm literally squealing right now! And I can't wait to share it with all of you.
You can follow along with the 25 bloggers attending by clicking on the event button above or by following the hashtag #DisneyFrozenEvent on Facebook and on Twitter. Please feel free to participate by tweeting questions, comments, or RTing our tweets before, during and after the event!